American Kennel Club Field Trials & American Field Trials of America.

Terry Zygalinski has been competing in National Field Trials since 1982. This sport requires a horse to field hunt test your dog. It wasn't long before Terry perfected his skills and on horseback calling out (some say singing) to his German Shorthaired Pointer, Terry won his first G.S.P.C.A. National Gun Dog Championship in October of 1994. Terry realized that he would need more than one horse to continue to keep up with his passion to field hunt test his beloved German Shorthaired Pointers. The saga began for more horses, more dogs and naturally more National Championship wins to date. What started as a hobby launched Terry's horse ranching career.

If you need rental horses for your Field Trial event please contact Terry as soon as possible. Multiple dog club requests fills his calendar quickly.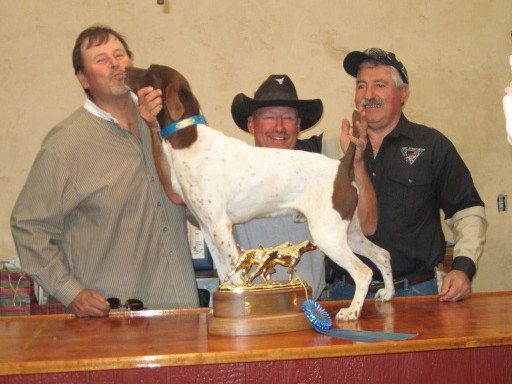 Mike, Terry and Louie celebrate Sky's highly coveted trophy and blue ribbon from the German Shorthaired Pointer Club of America, National Gun Dog Championship held in Eureka, Kansas, October 2010. Pat Waresk handled Sky on horseback in the final winning brace. Congratulations!